People caring for the terraced landscapes all over the world met in Italy from October 6th to 15th 2016. There were farmers, researchers and civil servants, who works to cultivate, protect and keep lively these landscapes, from Europe to South America, from Asia to Africa. The "International Terraced Landscapes Alliance" brought them together to present their achievements, visit the Italian terraces and discuss together about the future of these fragile landscapes.
Web site : www.terracedlandscapes2016.it
Programme of the event.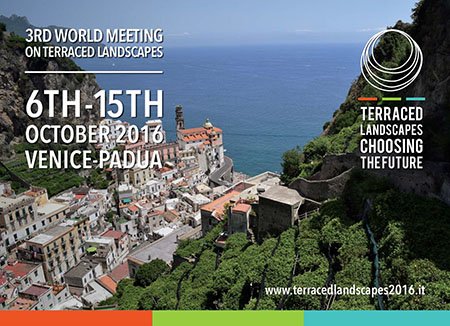 Terraced areas visited in Italy and topics discussed there:

Trieste Coast: Ecology and Biodiversity


Topolò-Dordolla: Artistic and Cultural Communication


Canale di Brenta: Agronomic and Social Innovation


Valpolicella and Valdobbiadene: Quality of Food, Quality of Life


Trentino: Rules and Policies


Ossola: Construction and Maintenance of Dry-Stones Walls


Alto Canavese-Valle D'Aosta: Landscape and Tourism


Chiavari-Lavagna-Vernazza: Environmental Risk


Ischia and Amalfi Coast: Heritage and Historical Landscapes


Pantelleria: Water Harvest, Resilience and Arid Agriculture
The International Terraced Landscapes Alliance organized the event in collaboration with the Regional Government of Veneto, the University of Padova and the IUAV University of Venice.
On the web-site "Terraced Landscapes 2016" results and summary of the event can be found and downloaded